Le tarot des enfants terribles c'est le jeu régressif à souhait des années 80 créé par Hyenaa. Les références de notre enfance (bon après ça dépend de ton âge mdr) réunies sous forme de tarot pour cultiver notre nostalgie. D'une nounou d'enfer, à Gargamelle en passant par le rubik's cube : des séries, des dessins animés ou encore des jouets qui nous ont bercé pendant toutes ces années.
On adore tout autant le graphisme de Ronin Panda (graphiste attitré de Hyena) qui nous rappelle le Soul Shadow Tarot (plus dispo à la vente for the moment) ou encore le Spirit Shadow Oracle (plus dispo à la vente for the moment non plus), du Love Shadow Oracle (dispo juste ici) ou encore du Funky Lenormand (dispo juste ici)
Ce jeu n'est pas encore dispo à la vente mais Hyenaa saura vous informer de sa sortie en temps voulu. 😉
Tirage interview du 📟💜 tarot des enfants terribles 💜📟 en 6 cartes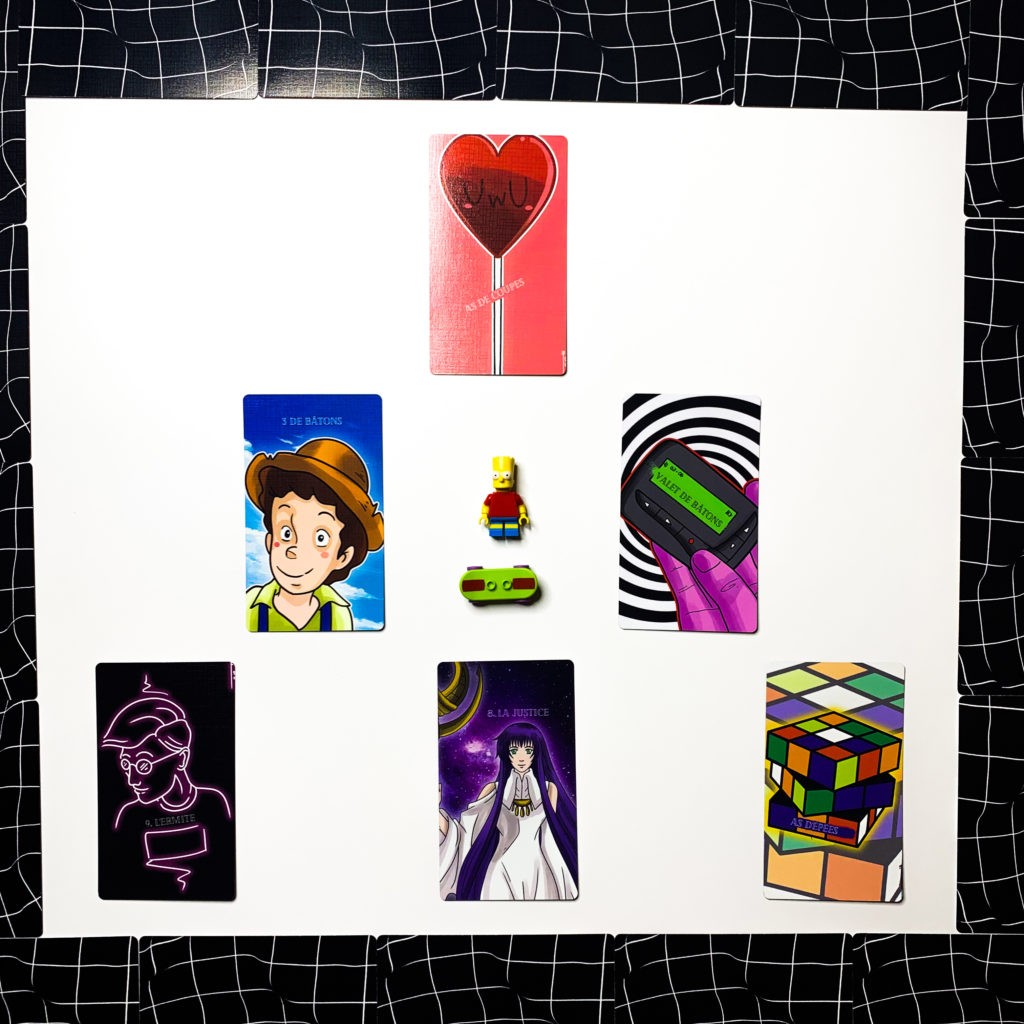 🎤🛹 PRÉSENTEZ-VOUS : As de Coupes 🍭
🃏📟 Je suis la madeleine de Proust en friandise 💜 J'ouvre la porte vers ton petit coeur sucré sur lequel je dessine un sourire et ainsi révéler ses plus lumineux desseins.
🎤🛹 QUELLE EST VOTRE FORCE ? : 3 de Bâtons 👨‍🌾
🃏📟 Comme Florent Pagny, la liberté de penser et d'aventure ! Je saurais te faire faire l'école buissonnière quand c'est nécessaire pour te montrer l'éducation de la vie !
🎤🛹 QUELLE EST VOTRE LIMITE ? : Valet de Bâtons 🔥
🃏📟 Si t'entends pas le signal ou que tu ne sens pas la vibration dans ta poche, ne t'attends pas à ce que je t'envoie une confirmation écrite de ce qui sortira déjà sous ton nez pendant les tirages.
🎤🛹 QUE POUVONS-NOUS APPRENDRE DE VOUS ? : IX L'Ermite 🪔
🃏📟 Que pour voir la lumière, il faut accepter d'être plongé dans le noir. Les néons de Las de Vegas sont pour toi !
🎤🛹 LA MEILLEURE FAÇON DE TRAVAILLER ENSEMBLE : VIII La Justice 🌙
🃏📟 Déjà d'accepter quand je te dis que ta place est à Vegas. À côté de Céline Dion ? Non mais détends-toi quand même c'est une métaphore 😂 En revanche, accepter ton destin et prendre des décisions en conséquence voilà qui est judicieux !
🎤🛹 DEVENIR DE NOTRE RELATION : As d'Épées 🧬
🃏📟 On va trouver ensemble le moyen de résoudre l'énigme du rubiscub ! Qui l'a déjà fini d'ailleurs ? 😂 Moi jamais ! Flemmeeeee
Interviewer 🎤: Bart Simpsons 🛹
Le tarot des enfants terribles
Le jeu en action lors d'une guidance faite par sa créatrice
Pick a card avec le tarot des enfants terribles + spirit shadow oracle
ici tu lis le reveal de ta carte
Le Funky Lenormand (dispo ici)
Quelques photos du Funky Lenormand